Description
Vitamin C powder is a blend of non-acidic powdered vitamin C and alkalizing minerals, calcium, magnesium, and potassium. This formula was designed for high dosing of vitamin C and to determine vitamin C tolerance. Vitamin C is a potent antioxidant essential for healthy immune and adrenal function and collagen production. The addition of alkalizing minerals results in a less acidic form of vitamin C that is gentler on the gastrointestinal (GI) system, allowing for higher dosing without unpleasant side effects.* The added calcium, magnesium, and potassium also help to reduce the transit time through the GI tract allowing for better vitamin C absorption, and it provides the additional benefits of these minerals, such as bone mineralization, electrolyte balance, and cellular energy production.*
Vitamin C Powder Recommended Use: Take 3 grams (approx. one scoop) per day or as directed by your health-care practitioner.
GLUTEN FREE     
DAIRY FREE     
SOY FREE     
VEGETARIAN     
NON-GMO     
VEGAN
Vitamin C Powder Benefits*
Alkalizing Effects – The standard American diet is highly acid forming, which may adversely affect health. Supplemental calcium, magnesium and potassium may help reduce systemic acidity, thus
supporting overall wellness.*
Bone Health – The inclusion of calcium, magnesium and potassium support healthy bone mineralization.*
Antioxidant – Vitamin C, in meaningful doses, is an effective antioxidant that works to scavenge damaging free radicals within the body.*
Immune Health – High dose vitamin C may help support a healthy immune system.*
Skin Health – Vitamin C supports collagen formation for healthy skin, as well as other connective tissue, such as bones, tendons, ligaments and blood vessels.*
Adrenal Health – Vitamin C supports healthy adrenal function, as it is required for the synthesis of adrenal hormones and neurotransmitters.*
Vitamin C Powder Highlights*
• Better Tolerated – Due to its natural acidity, high doses of vitamin C may result in an upset stomach and possible loose stools. This buffered vitamin C is gentler on the gastrointestinal system, allowing for higher dosing
without unpleasant side-effects.
• Better Absorption – Added minerals help reduce the speed at which vitamin C travels through the gastrointestinal system, allowing more time for adequate absorption.
• Better Delivery – This powder can easily be added to any beverage and eliminates the need for multiple pills.
Benefits*
• May help reduce whole body acidity
• Gentle on the stomach
• Scavenges free radicals
• Supports bone health
• Supports immune health and adrenal function
• Helps form healthy skin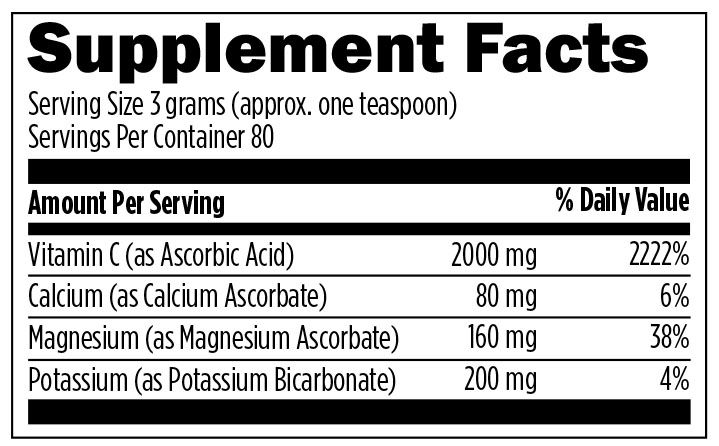 FDA Disclaimer†*:None of these statements have been evaluated by the Food and Drug Administration. These products are not intended to diagnose, treat, cure, or prevent any diseases.
Notes: You should consult a licensed health care professional before starting any supplement, dietary, or exercise program, especially if you are pregnant or have any pre-existing injuries or medical conditions.