Description
N-Acetyl-L-Cysteine (NAC) is an amino acid that is a precursor to glutathione, the body's most powerful antioxidant, which helps promote optimal detoxification. NAC is heavily researched for its role in optimizing lung health, and is also used for rapid recovery after workouts.  It is also beneficial for protection against normal exposure to heavy metals.**
Directions: As a dietary supplement, take one capsule per day, or as directed by your health care practitioner.
Storage: REFRIGERATE AFTER OPENING TO MAINTAIN FRESHNESS. Keep closed in a cool, dry place out of reach of children.
Ingredients: N-Acetyl-L-Cysteine
Other Ingredients: Cellulose (Capsule), Stearates (Vegetable Source), Microcrystalline Cellulose
GLUTEN FREE      DAIRY FREE      SOY FREE      VEGETARIAN      NON-GMO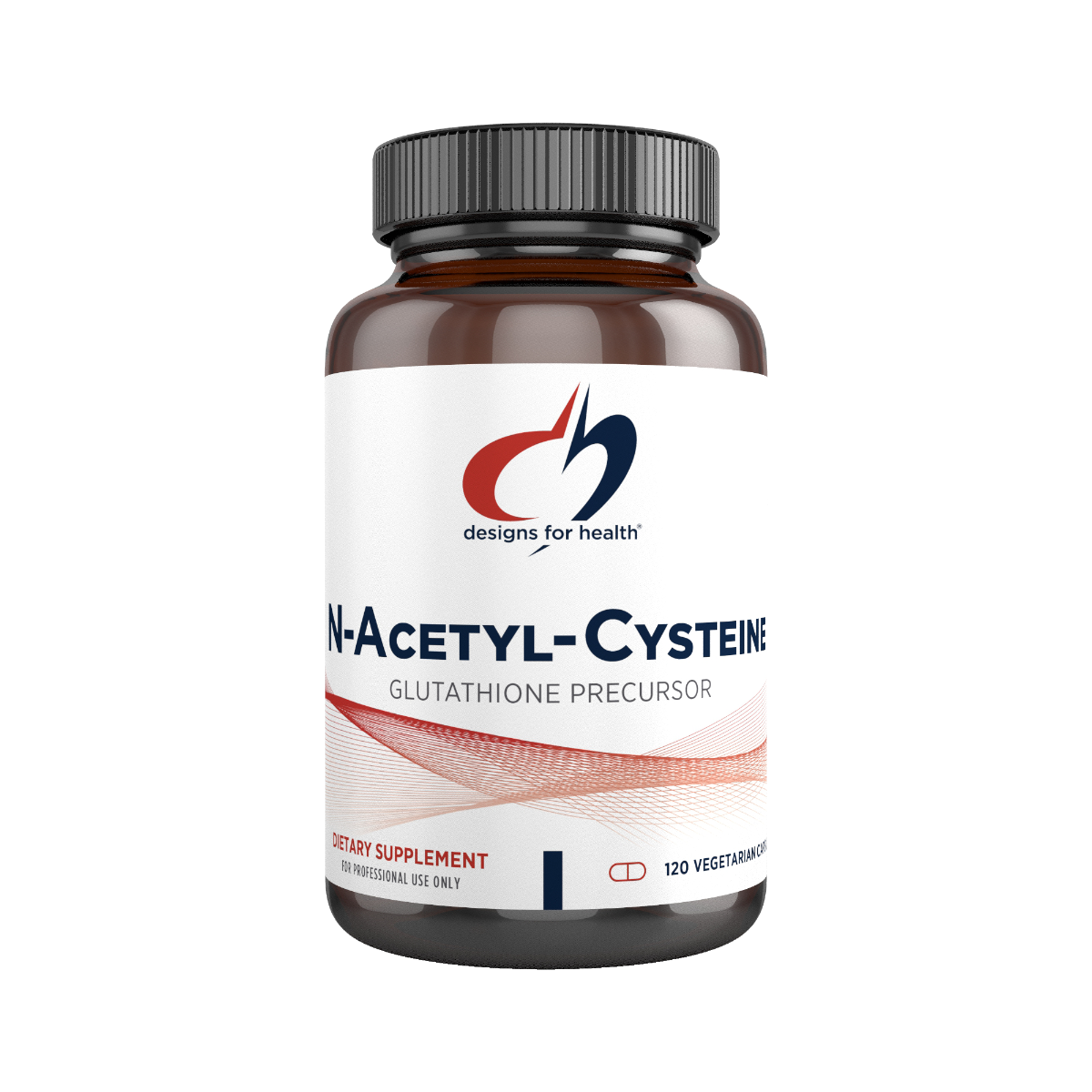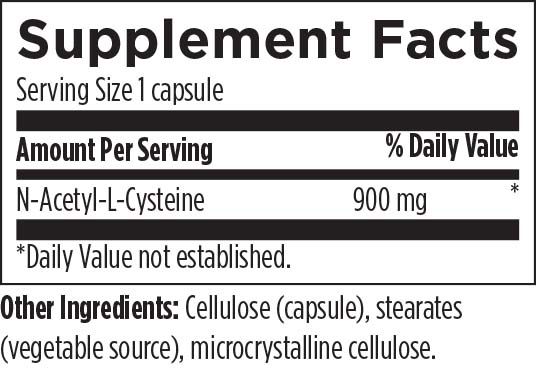 N-Acetyl-L-Cysteine helps support*:
• Healthy liver function
• Optimal detoxification
• Antioxidant maintenance
• Healthy lungs
• Post-workout muscle recovery
• Metabolic and reproductive health
• Brain and nervous system function
• Healthy inflammatory response
Highlights
Liver Health – Manufactured by the liver, glutathione is a key compound used by the liver to help protect the body from normal exposure to harmful substances, such as chemicals, pollutants and heavy metals. NAC has also been shown to protect the liver from excessive alcohol use and acetaminophen poisoning, as well as against the accumulation of free radicals.* When  glutathione levels are low, the liver is vulnerable to damage from these toxins. Therefore, NAC assists the body in maintaining proper levels of glutathione in order to help the natural detoxification process.*
Lung Health – NAC works to break up sulfide bonds that are responsible for thickening mucus. By supporting healthy mucus viscosity, NAC helps maintain normal breathing patterns and supports healthy lung function.*
Muscle Recovery – After a strenuous workout, damaging free radicals abound as a natural result of vigorous muscle contractions. While the master antioxidant, glutathione, diligently works to scavenge the excess free radicals, NAC quickly rebuilds the body's glutathione supply. Therefore, NAC can support efficient muscle recovery after workouts and periods of muscle exertion.*
Recommended Use:
As a dietary supplement, take one capsule per day, or as directed by your health care practitioner
FDA Disclaimer†*: None of these statements have been evaluated by the Food and Drug Administration. These products are not intended to diagnose, treat, cure, or prevent any diseases.
Notes: You should consult a licensed health care professional before starting any supplement, dietary, or exercise program, especially if you are pregnant or have any pre-existing injuries or medical conditions.