Description
LibidoStim-M™ features the herb Tongkat ali (Eurycoma longifolia), which boasts a variety of published clinical trials touting its use. The combination of Tongkat ali with diindolylmethane (DIM) and additional botanicals in LibidoStim-M™ provides support for normal testosterone production, erectile function, and desire.* Maintaining normal testosterone metabolism is important for supporting sexual desire and fertility (sperm concentration and motility), mood, and energy.
Recommended Use: Take 2 capsules per day or as directed by your health-care practitioner.
GLUTEN FREE      D
AIRY FREE     
SOY FREE     
VEGETARIAN     
NON-GMO     
VEGAN
LibidoStim-M™ is a targeted blend of biologically active nutrients and botanicals specifically formulated to help promote normal testosterone production, which may
support erectile function, and sexual desire in men.
* Each 2-capsule serving provides 300 mg of tribulus,   200 mg of chrysin,   100 mg of tongkat ali root (as LJ100®),   100 mg of diindolylmethane (DIM),
100 mg of horny goat weed,    100 mg of ginkgo leaf extract,   and 6 mg of boron (as bororganic glycine) to support healthy male sexual function.*
The ingredients in this formula help to facilitate healthy blood flow and support the efficient production and proper utilization of male sex hormones, including
testosterone, dihydrotestosterone (DHT), and dehydroepiandrosterone sulfate (DHEAS).
* Maintaining proper blood flow and healthy levels of these hormones
are key factors for an optimal sex drive.*
Benefits*
• May help promote male sexual desire
• May encourage normal testosterone production and healthy testosterone metabolism
• May help support healthy erectile function
• Supports antioxidant status in the body
• May support exercise tolerance
Take 2 capsules per day with meals or as directed by your health-care practitioner.
Formula Highlights*
• Tongkat ali has been shown in clinical trials to help optimize testosterone levels that are critical for the support of sexual desire and fertility, including sperm concentration and    motility.
• Tribulus supports sexual desire by helping the body maintain a normal balance of male sex hormones
• Horny goat weed has traditionally been used to promote erectile function through its hormone-supportive properties
• DIM and chrysin are compounds that help maintain the proper balance of testosterone to estrogen, an important factor in promoting male sexual desire
• Ginkgo biloba may help promote normal blood flow
• Boron may be helpful for promoting the conversion of total testosterone to free testosterone making it more available in the body
• Gluten-free, dairy-free, soy-free, and
• Suitable for vegetarians and vegans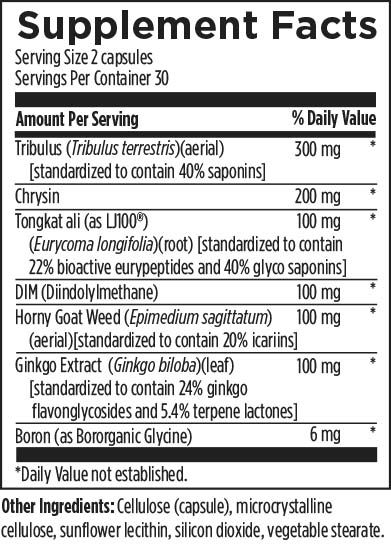 FDA Disclaimer†*:None of these statements have been evaluated by the Food and Drug Administration. These products are not intended to diagnose, treat, cure, or prevent any diseases.
Notes: You should consult a licensed health care professional before starting any supplement, dietary, or exercise program, especially if you are pregnant or have any pre-existing injuries or medical conditions.