Description
KreAlkalyn Pro contains an impressive 900 mg of buffered creatine monohydrate per capsule. Many of the unpleasant side effects of high-dose creatine supplementation (i.e., nausea, diarrhea, cramps, and bloating) are not from the creatine, but from the waste metabolite creatinine. KreAlkalyn Pro is formulated with a highly stable and bioavailable form of buffered creatine monohydrate as Kre-Alkalyn® to support athletic performance, skeletal muscle, and body composition.* Each two-capsule serving provides 1.8 g (an impressive 900 mg per capsule) of creatine monohydrate. KreAlkalyn Pro may be ideal for athletes, older individuals, and those who do not consume adequate amounts of amino acid precursors from protein or creatine-rich foods, such as vegans and vegetarians.*
Recommended Use: Take 2 capsules per day or as directed by your health-care practitioner.
GLUTEN FREE      DAIRY FREE      SOY FREE      VEGETARIAN      NON-GMO      VEGAN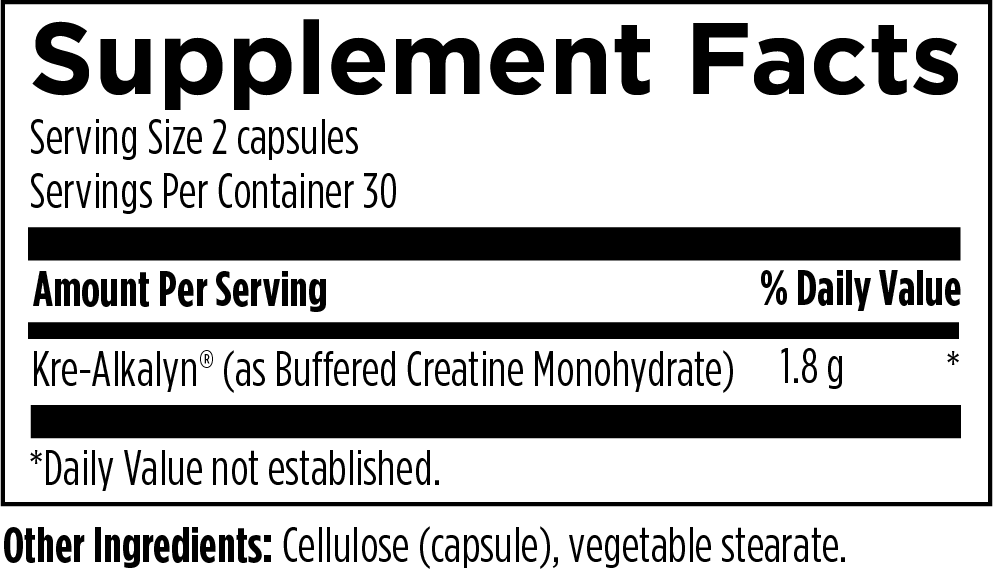 FDA Disclaimer†*:None of these statements have been evaluated by the Food and Drug Administration. These products are not intended to diagnose, treat, cure, or prevent any diseases.
Notes: You should consult a licensed health care professional before starting any supplement, dietary, or exercise program, especially if you are pregnant or have any pre-existing injuries or medical conditions.