Description
Enzymatic Mouth Fresheners
At a glance
Send your taste buds on a wintry adventure with Precision Biotics® Enzymatic Mouth Fresheners—minty fresh, sugar-free breath tablets formulated to awaken your taste buds and support the elimination of bad breath odor for up to 4 hours.
Powered by BioFresh4+ technology, these PrecisionBiotics® Enzymatic Mouth Fresheners sugar-free breath tablets work in a unique and innovative wxay!
New science confirms: Removing odor compounds is a highly effective way to neutralize occasional bad breath.
Biofilm in your mouth is natural and beneficial for oral health. However, over 1,000 types of bacteria live in this biofilm, some of which produce malodourous compounds. These bacterial compounds release odors that can give you strong-smelling, foul-scented breath. BioFresh4+ technology uses a revolutionary scientific strategy to support capturing and removing these bad breath-causing compounds, effectively supporting the elimination of foul-smelling odors. Combining the forces of nature to produce a new way to tackle occasional bad breath. BioFresh4+ technology is a rapid-acting and highly active odor removal support system. It contains natural enzymes and plant extracts that combine forces to provide immediate support your occasional bad breath for up to 4 hours.
Key benefits
Ingredients
Sorbitol, xylitol, cellulose, coffee extract, calcium carbonate, natural mint flavor, silicon dioxide, steviol glycosides, enzyme.
Description
16 sugar-free breath tablets per 0.8 oz. (24g) tube
Serving Size & Calories
Serving Size: 1 table
Calories: 4
Cautions
Potential choking hazard due to larger than usual tablet size. Supervise children when consuming.
Storage Instructions
Store intact in a cool, dry place, away from sunlight.
Take 1 tablet as needed up to 5 times daily. For best results, scrub the surface of your tongue with the tablet and let it fully dissolve without chewing. Enjoy fresher breath for up to 4 hours!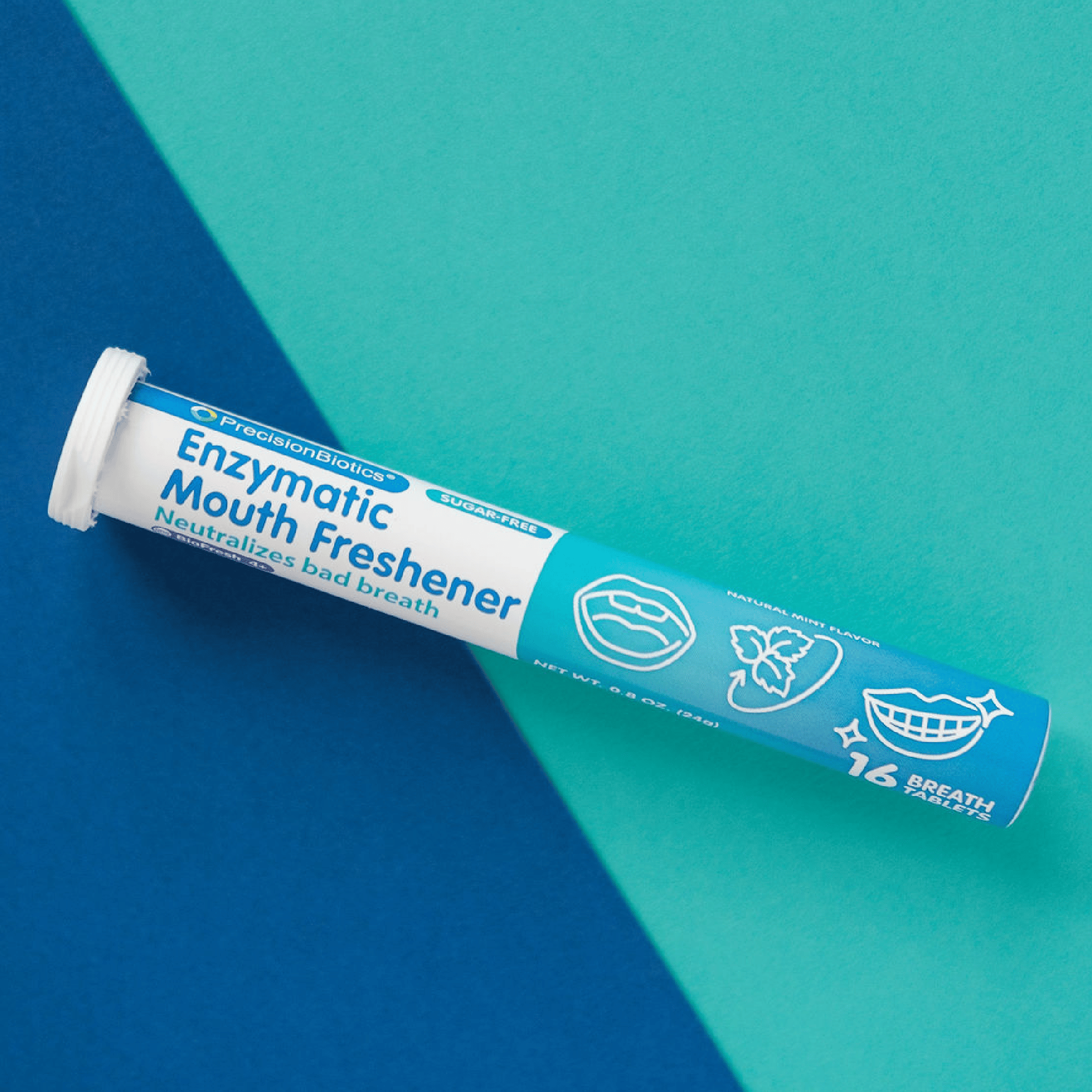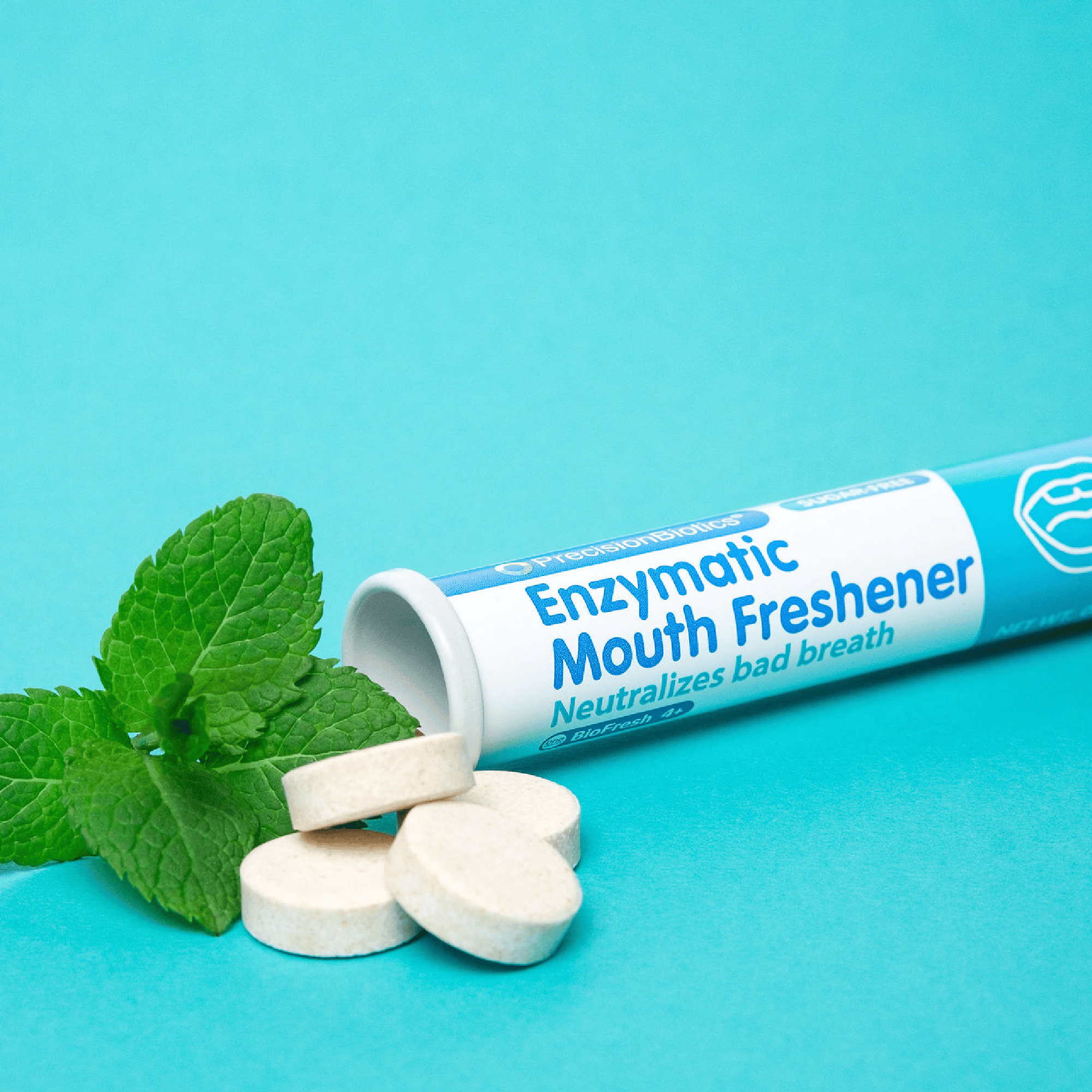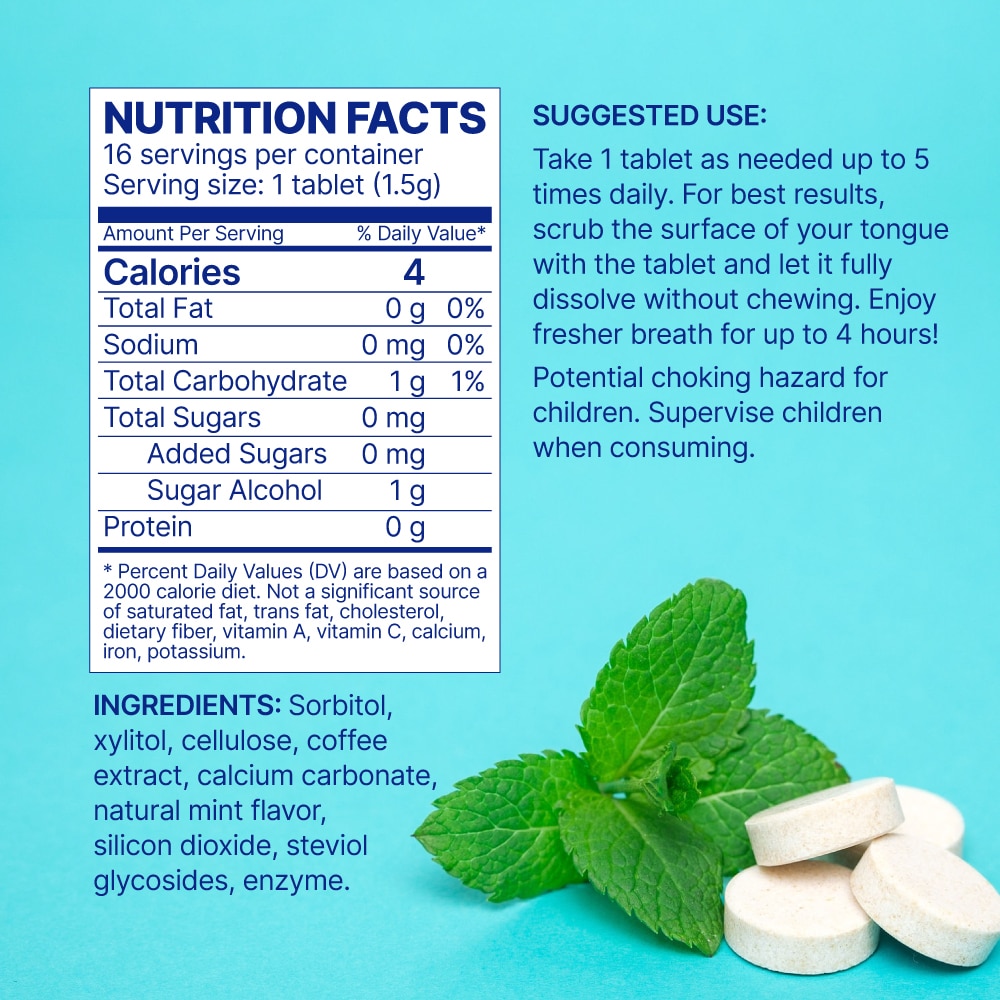 FDA Disclaimer*: These statements have not been evaluated by the Food and Drug Administration. These products are not intended to diagnose, treat, cure, or prevent any diseases.
Notes: You should consult a licensed health care professional before starting any supplement, dietary, or exercise program, especially if you are pregnant or have any pre-existing injuries or medical conditions.