Description
Cannab-FS™ 300
Cannab-FS™ 300 is offered in a liquid form, infused in a base of organic cold-pressed hemp seed oil. It also contains natural terpenes, aromatic compounds from the hemp plant that work synergistically with phytocannabinoids, which are the beneficial compounds naturally found in the aerial parts of hemp, complementing their health-promoting properties. Additional terpenes are also included for taste enhancement. In this product, 100% of the hemp flowers come from American farms grown under the Farm Bill. Contains <0.3% THC. Cannab-FS™ 300 provides 300 mg per bottle of full-spectrum phytocannabinoids. It yields 10 mg of active phytocannabinoids per 1 mL serving (1 dropperful).
Recommended Use: Take 1 mL (1 dropperful) and hold in mouth for 30 seconds before swallowing or as directed by your health-care practitioner.
Warning: Consult your health-care practitioner prior to use if you are pregnant or breastfeeding.
Hemp-derived phtyocannabinoid products are not for sale outside the U.S. or to the states of Idaho, Mississippi, Alaska, Louisiana, West Virginia, and South Dakota.
GLUTEN FREE     
DAIRY FREE     
SOY FREE     
VEGETARIAN     
NON-GMO     
VEGAN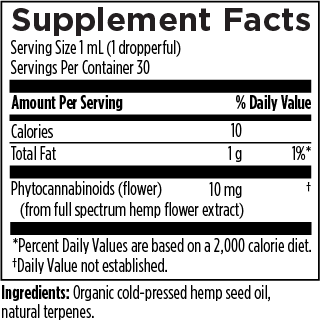 * These statements have not been evaluated by the Food and Drug Administration. This product is not intended to diagnose, treat, cure, or prevent any disease.
Notes: You should consult a licensed health care professional before starting any supplement, dietary, or exercise program, especially if you are pregnant or have any pre-existing injuries or medical conditions.