Description
This delicious, effervescent, orange-flavored powder easily provides targeted dosing of vitamin C. Potassium bicarbonate is included in this formula as a buffering agent and to give it "fizz." Also included are quercetin, hesperidin, and rutin, which are natural bioflavonoids commonly found in citrus fruits.
Recommended Use: Take 4 grams (approximately one scoop) per day or as directed by your health-care practitioner.
GLUTEN FREE      DAIRY FREE      SOY FREE      VEGETARIAN      NON-GMO      VEGAN
C+BioFizz™ is a proprietary blend of vitamin C and three unique bioflavonoids — naturally occurring plant substances found in brightly colored fruits and vegetables. This product is an effervescent, orange-flavored powder and contains no fructose or other unfavorable sweeteners. With a generous amount of vitamin C plus the three powerful bioflavonoids, C+BioFizz™ simplifies getting optimal doses of these critical nutrients in a delicious-tasting beverage.
Vitamin C
Vitamin C, also known as ascorbic acid, is a water-soluble vitamin naturally present in some foods and used by many as a dietary supplement. Vitamin C is an essential vitamin, which means it cannot be made in the body and must be obtained from food or through supplements.
Vitamin C is a wonder nutrient, and is essential for immunity, bone maintenance, collagen formation (collagen is an essential component of connective tissue), and a broad range of other biological functions.*
Bioflavonoids: Quercetin, Hesperidin and Rutin
• Quercetin is a highly concentrated bioflavonoid found in citrus fruits, red wine, and tea. Sometimes called the 'king of the flavonoids,' this powerful antioxidant supports the immune system as well as a healthy
inflammatory response.*
• Hesperidin, another powerful but lesser-known bioflavonoid, can be found in oranges and grapefruits.
• Rutin is found in asparagus, citrus fruits, and berries such as cranberries and mulberries.
Vitamin C and bioflavonoids are found together in nature, because they work synergistically; for instance, oranges are rich in both vitamin C and the bioflavonoid, hesperidin. The inclusion of bioflavonoids in C+BioFizz™ helps the body properly absorb and use vitamin C, and assists in preventing vitamin C from being destroyed by oxidation.
All three bioflavonoids in C+BioFizz™ – quercetin, hesperiden and rutin – are noted for their protective, antioxidative and immune-supportive properties as well as their support for a healthy inflammatory response.
They are also recognized for supporting heart health and their role in assisting to create a positive microbial balance in the body.*
Quercetin, hesperidin, and rutin, especially when paired with vitamin C, work together to protect and preserve the structure of blood capillaries, supporting blood vessel health.*
Recommended Use: As a dietary supplement take 4 grams (approx. one teaspoon) per day, or as directed by your
health care practitioner.
Factors that reduce vitamin C levels:
• Stress
• Smoking
• Illness
• Injury
• Birth control pills
• Estrogen use during menopause
• Certain medications, such as cortisone and aspirin
• Aging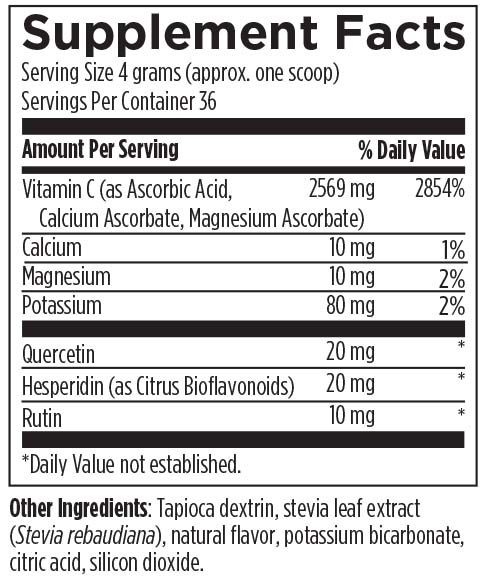 FDA Disclaimer†*:None of these statements have been evaluated by the Food and Drug Administration. These products are not intended to diagnose, treat, cure, or prevent any diseases.
Notes: You should consult a licensed health care professional before starting any supplement, dietary, or exercise program, especially if you are pregnant or have any pre-existing injuries or medical conditions.