Description
Brain Vitale™ is a unique formulation designed to optimize brain function and support healthy cognition, mood, and memory.* It contains a comprehensive array of brain-supportive nutrients, including acetyl-L-carnitine, L-alpha-glycerylphosphorylcholine, phosphatidylserine, Ginkgo biloba (standardized to contain 24% ginkgo flavonglycosides and 5.4% terpene lactones), and citicoline. Also included is a unique coffee fruit concentrate extracted from the whole coffee cherry, including the flesh of the berry that surrounds the coffee bean and contains several distinctive compounds not found in the coffee beans themselves. Brain Vitale™ provides building blocks for brain phospholipids, crucial structural components of the synapses of neurons, and it is formulated to help assist with various aspects of brain health, such as cell energy production, mitochondrial support, and antioxidant protection.*
Recommended Use: As a dietary supplement, take two capsules per day with meals, or as directed by your health care practitioner.
Warning: Consult your health-care practitioner before using if you are pregnant or lactating, or if you have or are taking prescription medications, especially blood thinners or anticoagulants.
GLUTEN FREE      DAIRY FREE      VEGETARIAN      NON-GMO      VEGAN
Research suggests that diet and lifestyle may support
brain health in middle age and beyond. Brain Vitale™
contains acetyl-L-carnitine (ALC), which provides support
for mitochondrial function.*
ALC can pass through the blood-brain barrier and may
support a healthy inflammatory response.* Citicoline
supports the body's natural regeneration and repair of the
cell membranes of neurons.* Coffee fruit extract from the
whole coffee cherry contains polyphenols and other
constituents that support memory formation and
neuronal health.* Phosphatidylserine and
glycerylphosphorylcholine have demonstrated
neuroprotective properties and support cognitive
function.* Ginkgo helps support memory function,
concentration, and other aspects of overall brain health.*
Brain Vitale Benefits*
• Supports healthy brain agings
• Supports memory and cognitive function
• Helps to support a healthy stress response
Recommended Use:  Take 2 capsules per day with meals or as directed by your health-care practitioner.
Highlights
Synergistic combination of an array of
brain-supportive nutrients*
• Provides 500 mg of acetyl-L-carnitine and 250 mg of
citicoline per serving
• Concentrated extract from the whole coffee cherry
contains brain-supportive compounds not found in
coffee beans alone*
• Gluten-free and dairy-free
• Suitable for vegetarians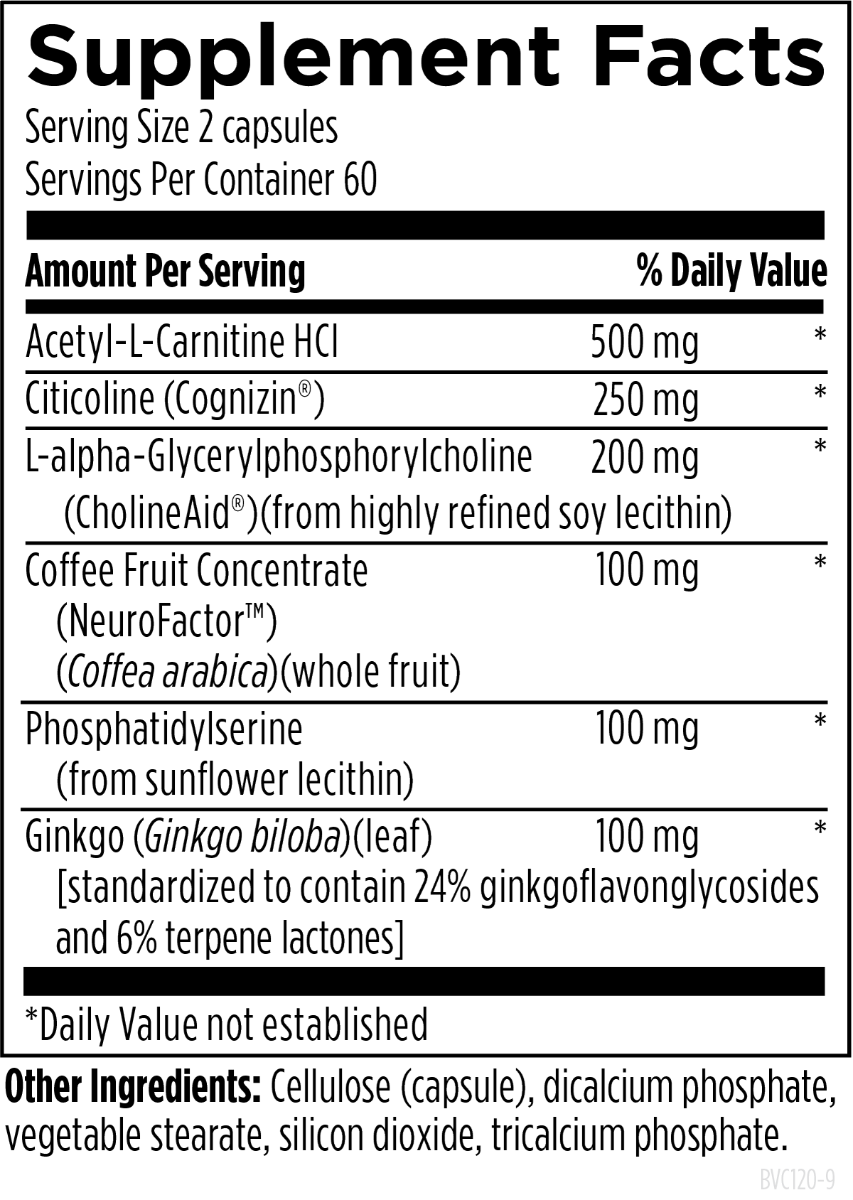 CholineAid® is a registered trademark of Chemi Nutra.
FDA Disclaimer†*:None of these statements have been evaluated by the Food and Drug Administration. These products are not intended to diagnose, treat, cure, or prevent any diseases.
Notes: You should consult a licensed health care professional before starting any supplement, dietary, or exercise program, especially if you are pregnant or have any pre-existing injuries or medical conditions.