Description
Berb-Evail® contains 400 mg of the plant alkaloid berberine (from Berberis aristata) per softgel for the primary purpose of supporting healthy blood sugar metabolism and normal insulin sensitivity. Berberine has also been shown to exhibit potential antimicrobial properties.* Berb-Evail® is manufactured using Designs for Health's Evail™ technology, and it is an all-natural formulation that improves the absorption and delivery of berberine. This process uses a proprietary blend of medium-chain triglyceride (MCT) oil, non-soy derived lecithin, and tocotrienols, without the use of potentially harmful surfactants.
Recommended Use: Take 1 softgel per day or as directed by your health-care practitioner.
GLUTEN FREE     
DAIRY FREE     
NON-GMO
Berb-Evail® is a highly bioavailable formula featuring berberine from Berberis aristata. Berberine is a botanical extract that influences multiple pathways in blood sugar and lipid metabolism and supports normal insulin
sensitivity.* It has a range of effects on cardiovascular health including the support of healthy vessels and a normal response to oxidative stress and inflammation.*
Berberine may also support digestion and promote healthy microbial balance in the gastrointestinal tract.*
Designs for Health's proprietary Evail™ emulsification technology is designed to enhance the bioavailability and absorption of bioactive ingredients. The Evail™ process uses a quillaja extract, along with delta- and
gamma-tocotrienols, and medium-chain triglycerides (MCTs) to support absorption.
Each 1-softgel serving contains 400 mg of highly bioavailable berberine to help support healthy glucose metabolism, cardiovascular health, and healthy blood lipid metabolism.*
Benefits*
Supports the following:
• Healthy blood sugar metabolism
• Healthy lipid metabolism
• Cardiovascular health
Highlights*
     • 400 mg of berberine per softgel
• Formulated with the Evail™ emulsification technology that includes MCT and quillaja extract for enhanced bioavailability
• Contains non-GMO ingredients
• Gluten-free and dairy-free
Recommended Use
Take 1 softgel per day with a meal or as directed by your health-care practitioner.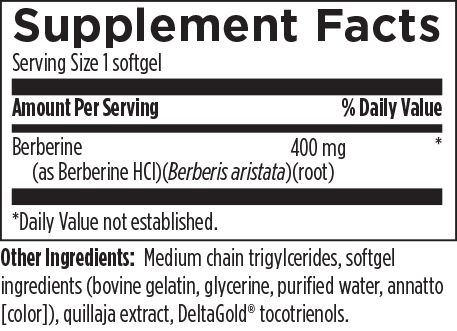 * These statements have not been evaluated by the Food and Drug Administration. This product is not intended to diagnose, treat, cure, or prevent any disease.
Notes: You should consult a licensed health care professional before starting any supplement, dietary, or exercise program, especially if you are pregnant or have any pre-existing injuries or medical conditions.